Membership at the Calumet Theatre is quick and easy!
Simply click on the Membership button below and complete the online membership form for the level you wish to join.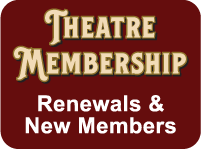 The online form requires a valid email address in order to process your membership. If you do not have a valid email account, please choose from the options below to submit a paper form to the Theatre.
MORE INFORMATION ON MEMBERSHIP

Once you've completed the form, please send it along with your membership donation to:
Calumet Theatre
P.O. Box 167
Calumet, MI 49913
Please allow 5-10 business days (excluding Holiday's and weekends) to receive your Membership packet.
For questions, please contact the Box Office at (906) 337-2610.