A handful of 2021 Monday Money Madness Raffle tickets are still available! To purchase yours, call the Box Office at (906) 337-2610 Monday-Wednesday, Noon-5 pm

Win Fast Cash with the Monday Money Madness Raffle!

52 chances to win cash and NO LIMIT to the number of times you can win with Monday Money Madness! The Calumet Theatre needs your support now more than ever, and you can help by buying a Monday Money Madness raffle ticket for just $20.00.
See raffle details and ticket locations below.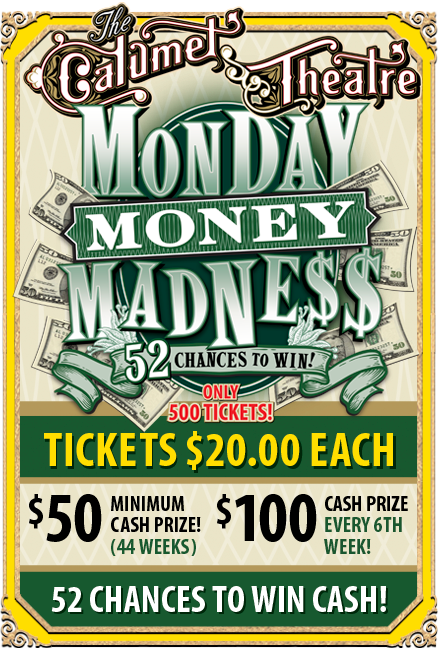 RAFFLE DETAILS:
Drawings:  Every Monday for 52 weeks
Raffle begins Monday, January 4, 2021 and concludes on Monday, December 27, 2021
Prizes: $50.00 or $100.00
One (1) $50.00 winner will be drawn for 44 weeks and one (1) $100.00 winner will be drawn every 6th week for 8 weeks.
Location: Each Monday drawing will be held at the Calumet Theatre

Calumet Theatre, 340 6th Street, Calumet, MI 49913
Ticket Donation Cost: $20.00 per ticket

Only 500 tickets will be sold. All purchased tickets will be included in every Monday drawing. Each ticket sold will be included in every drawing. There are no limits on the number of times a ticket holder can win.
Ticket Outlets: Purchase your 2021 MMM ticket at the following locations:

Thank you for supporting  your historic Calumet Theatre!
State of Michigan Raffle License: X03524