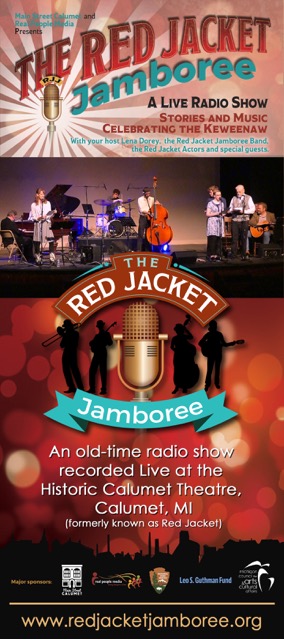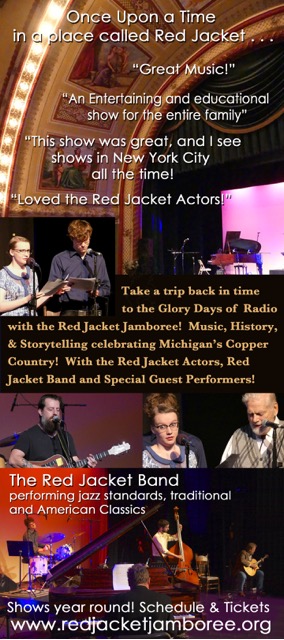 Old-Time Radio Variety Show to celebrate Winter Carnival and Valentines Day!
The Red Jacket Jamboree, Calumet's old-time radio variety show, features stories, music and songs reflecting the history, landscape and culture of the Keweenaw Peninsula.  The show is recorded in front of a live audience at the historic Calumet Theatre for radio broadcast at a later date.  Two one-hour radio episodes are recorded per show- each having their own theme.
The February episode titles are "Keweenaw Kiss" in celebration of Valentine's Day  and "Winter Carnival."
The show will feature an eclectic array of  music by "The Copper Cats" with featured guest vocalist Peg Carrothers,  storytelling by poet laureate of the U.P. Martin Achatz, and sketches by Red Jacket Actors: Ruby Birckelbaw, Noah Ekdom and Ralph Horvath. The show is hosted by Lena Dorey.  " The Copper Cats"  are Bill Carrothers on piano, Jerry Younce on guitar, Carrie Biolo on percussion and vibraphone and Harry South on bass.
Peg Carrothers was born and raised in "Nordeast" Minneapolis. Her musical training began as a young child, learning songs from the family for every season and occasion. Her love for song and a music scholarship led her to pursue a music degree at St Catherine's College and finish up at the University of Minnesota, studying in the classical opera tradition before vocal jazz was a developed curriculum.  It was during these early college years that she met Bill Carrothers, who suggested Frank Sinatra and Billie Holiday for her thirsty young jazz ears. Turning to the jazz community, she built a standard repertoire, performing in local venues with many talented musicians. Along with Bill Carrothers she's shared the stage with Dean Magraw, Chris Bates, Jay Epstein, Jacqueline Ferrier-Ultan, Adam Linz, and others and is featured on cellist Matt Turner's CD, "The Voices That Are Gone" (Illusions).
The 2017/2018 season of The Red Jacket Jamboree is a production of Main Street Calumet and Real People Media, a nonprofit organization helping people share their stories through the literary, visual, performing and media arts.
The program is made possible with support from the Michigan Council for Arts and Cultural Affairs and private donors.  More information is at the website:
www.redjacketjamboree.org
.
The performance is
Saturday, February 10 at 7pm.
   The audience is asked to be in their seats 10 minutes prior to the performance.
Tickets for reserved seating can be purchased online at www.calumettheatre.com or by calling the box office at (906) 337-2610.
Tickets: