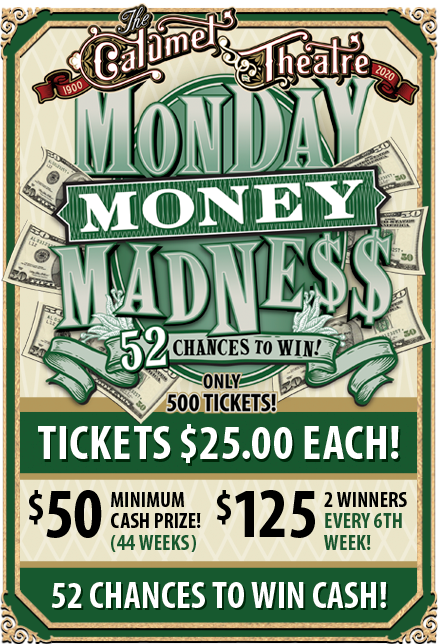 IT'S BACK!
Tickets for the 3rd Annual Monday Money Madness Raffle are available now!
Ticket Price: $25.00 each
Don't miss your chance to win $50.00 each week for a full year (One winner for 44 total weeks) or be drawn as one of two winners every 6th week (for 8 total weeks) to win $125.00! THERE IS NO LIMIT TO THE NUMBER OF TIMES YOU CAN WIN!!!
Only 500 tickets will be sold.
Tickets can be purchased at:
• Calumet Theatre Box Office
• Ace Hardware (Calumet)
• pizzaworks (Houghton location only)
You can also get your lucky ticket from any Calumet Theatre Board member!
The first drawing for the new raffle will be held on Monday, January 6, 2020. All 500 tickets will be included in every Monday drawing held at the Calumet Theatre (340 6th Street, Calumet, MI 49913). The final ticket winner will be drawn on Monday, December 28, 2020.
For just $25.00 per ticket, you get 52 CHANCES to DOUBLE YOUR MONEY with NO LIMIT on the number of times you can win! That's LESS THAN 0.50¢ to play per week for 1 Year!
The balance of all Monday Money Madness Raffle proceeds –  after winner payout – will benefit the Calumet Theatre for operational support.